Our Machine Learning for Data Science Bootcamp series continued this week with a highly successful two-day workshop at the Fraunhofer Institute, Sankt Augustin, Germany. As with our previous Bootcamp held earlier this summer in London, this workshop was led by Dr Mike Ashcroft, Lecturer in Artificial Intelligence at Uppsala University, and covered key machine learning pre-processing and modelling processes in depth. Feedback from participants indicates that Mike's approach to guiding learners through the RStudio workflow – cleaning data, extracting and selecting features, managing missing values, and generating, selecting, and evaluating the resulting models – was very much appreciated:
I didn't expect this course to be so good. I thought we would do more basic R stuff. It was a great experience. Mike is a very good teacher and fun to listen/watch.
Participants joined the workshop from all over Europe, bringing with them a range of experience in Machine Learning and Data Science – from absolute beginners to experienced practitioners. Learners reported that the blend of practical tasks and theory was well-balanced, and that they appreciated the chance to attempt a variety of methods in R. When asked, all said they intended to put the new knowledge gained from the Bootcamp to practical use, and would recommended EDSA's training to others.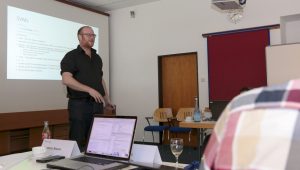 Even though I had some knowledge about machine learning, the course gave me a deeper understanding about it and taught me some pitfalls that I need to be aware of.
We're running more Bootcamps this summer and arrangements are currently being made for events in France and Sweden. For up to date information, please follow us on Twitter.
My expectations were overreached. I wish more bootcamps, more online courses in this quality 🙂